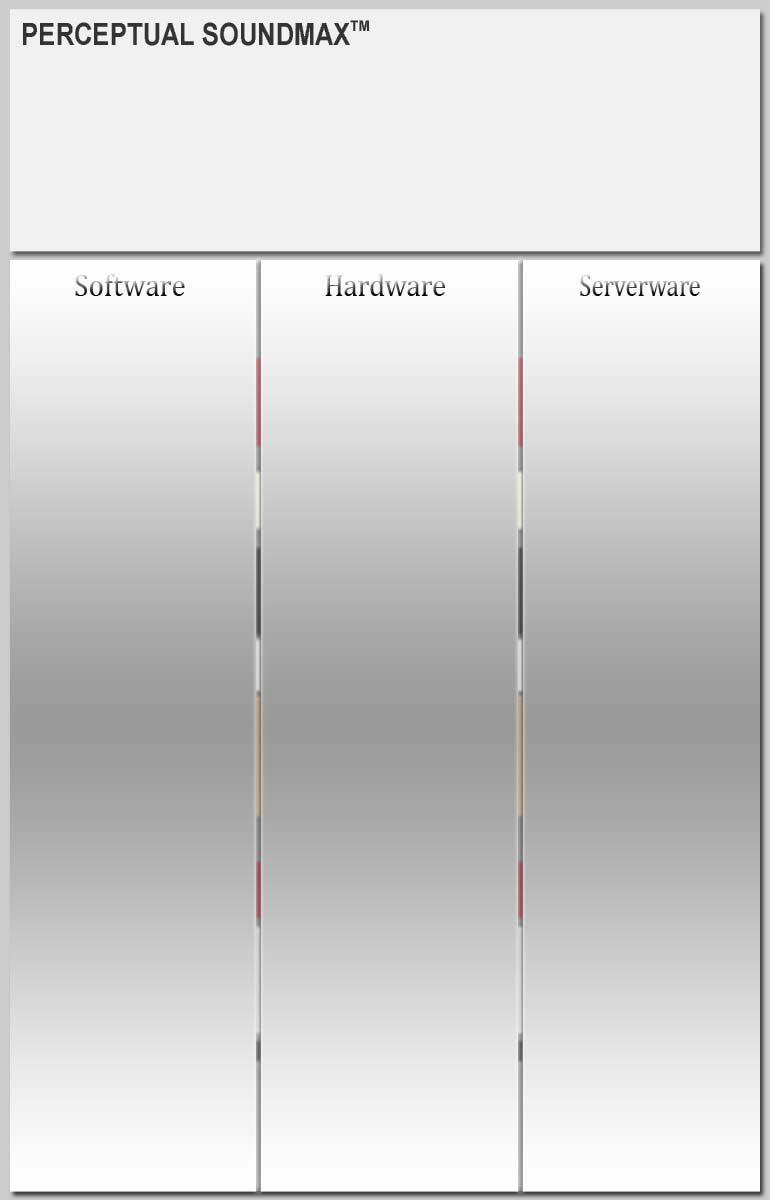 Copyright © 2003-2015 ATC Labs. All Rights Reserved.
Search ATC Labs
Craft a lively, breathtakingly detailed, consistent and balanced sound with Perceptual SoundMaxTM.
A new FM/DAB audio processor incorporating powerful state-of-art signal processing technologies and
Psychoacoustics, performs detailed 10 or 24 band audio processing using an extremely detailed and accurate time-frequency representation of the audio signals. Novel signal conditioning tools based on our unique know how in Psychoacoustic Modeling and Harmonic Analysis augment the 24 band dynamics processing. Most Perceptual SoundmaxTM models provide additional internet streaming functionality with independent processing for the internet stream. This comes standard with high quality AAC+ encoding and connectivity to distribution servers. Let Perceptual SoundMaxTM achieve Unmatched Sound Quality for your broadcast or production.
Model Q24Soft is a full featured real time audio processing software for production professionals, broadcasters and intercasters. A two in one audio processing platform featuring both 24 band dynamics pre-processor and a new automatic noise reduction solution. It makes your sound livelier, crispier, detailed, cleaner, and louder.
Intelligent 10/24 band audio processing digital, FM, and internet Processor Model Q10/Q24 series is a new family rack mount 10/24 band audio processor offering performance and reliability demanded by rugged broadcast environments. Unmatched audio quality based on the latest research in Signal Processing and Psychoacoustics is combined with unmatched configurability to help create a signature sound. Choose from a range of models offering from one to eight independent processing paths, with up to 8 streams. I/O possibilities include analog (XLR) and/or digital AES, SCA/RDBS, and much more.
Model Q24Ser Process 20+ stereo audio channels and/or
stream 20+ internet streams using this amazing 1U/2U rack server unit. Each of the 20+ channels packs the punch of an independent 24-band Perceptual SoundMaxTM audio processor, has inbuilt high quality AAC+ encoding, and connectivity to distribution servers. Ideal for large broadcasters and for broadcasters looking to offer enhanced multi-channel services.
Purchase either as a fully configured OEM equipment, pre-loaded with server software
or as a software solution for your existing server hardware. Sophisticated controller software offers unsurpassed monitoring and tuning options from any networked location.The full suite of our 24 band processing and noise reduction tools is applied to each audio stream.